---
Tongariro Alpine Crossing
$60 one way
Duration
Full Day
Tour Type
Alpine Hike
Transport
One Way Shuttle
Location
Mt Tongariro
---
Tongariro Alpine Crossing Shuttle One Way Service, operated by National Park Shuttles
One way Shuttle from the stress FREE Ketetahi Park and Ride. 900 metres north of the Ketetahi entry point. Please ensure you arrive 30mins prior to your scheduled departure time of either 7am, 8am or 9am.
National Park Shuttles is the only Tangata Whenua (local people) operator from the National Park Village offering a fantastic on-route journey departing from the only secure car park located on State Highway 46, road end of the Ketetahi track.
Enjoy the convenience of driving your own car to the track end! You'll have the freedom to head home as soon as you have finished your hike.
Our one-way shuttle service is a great option for those wanting extra time to soak up the views and naturally includes our 'Maori Cultural' blessings. With no set time schedule to meet, you are free to hike at your own pace, while knowing that your car is waiting for you at the finish.
The Crossing is regarded in the top 10 one day hikes in the world and is considered New Zealand's best! Traversing two active volcanoes, the Tongariro Alpine Crossing is situated in the famous Tongariro National Park. A dual World Heritage Area.
When the weather is great, the track can get really hot, so sunblock is a must have. The weather however can be very changeable so dress accordingly and prepare for the worst. Make sure you pack some warm clothes and a waterproof jacket and if you are unsure of what you need in your backpack then have a look at what to take. Check out Mountain Forecast for the latest in weather news.
Preparation is key and a moderate degree of fitness is best. The Tongariro Alpine Crossing track is well marked and toilets are available enroute, but there is no fresh water available so take at least 1.5L per person. It is also important to take ALL of your rubbish out with you.
For more track information visit DoC.
One Way Shuttles, Pick up Point & Car Parking
Park your vehicle in the secure and safe car park Ketetahi Park and Ride. Then hike the Tongariro Crossing back to your vehicle. When you finish your trek, you will not come out at your vehicles. There is another 900-metre journey back to your vehicle. Follow the orange flags. We promote safety first for all our customers!
We are local to the Crossing area, so we monitor the weather closely and are able to take advantage when it is better than expected. We do not cancel due to weather until the day itself. We update our site daily on the red bar and email you once we know.
We have a strict departing schedule.
We are committed to providing you with the best possible experience. Travel with our exclusive Manawhenua shuttle provider, I'm sure you won't be disappointed.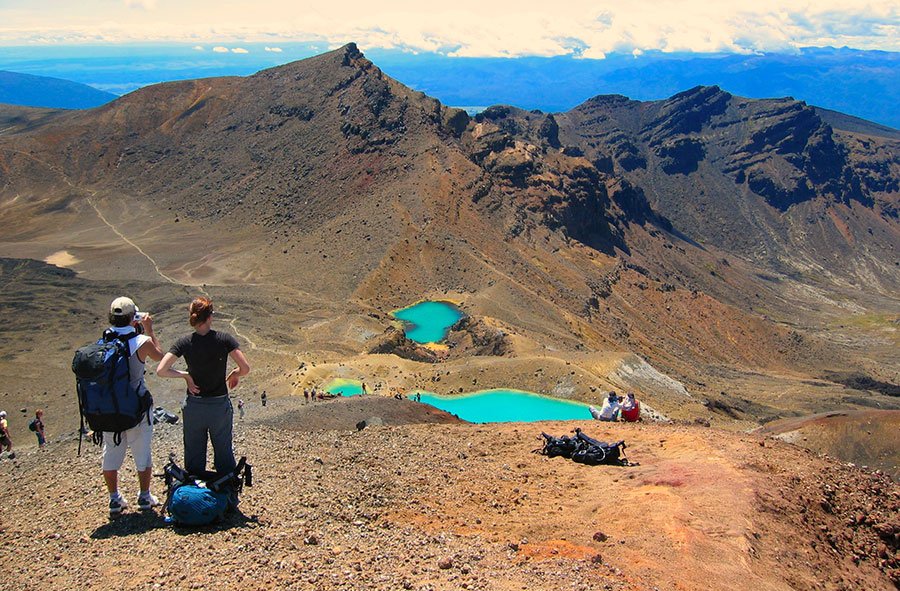 National Park Shuttles
The one way service is operated by National Park Shuttles. This is ideal for those passing through the area. Our shuttles depart each morning for maximum flexibility at 7am, 8am and 9am.
Your pick up point for the transfer to Mangatepopo departs from inside the secure car park, on the other side of SH 46. The entry into this car park is ~ 400 metres past/or before the Ketetahi road entry. The secure car parking is included in your ticket when you purchase a shuttle ticket online.
Please note there is a 4 hour restriction to park your car at Ketetahi road end.
We are local to the Crossing area, so we monitor the weather closely and take advantage when it is better than expected. We do not cancel due to weather until the day itself.
There is plenty of car parking at the secure car park. The other option is our return shuttle from National Park Village: we pick you up in the morning from your chosen location and deliver you back to your car/accommodation in the afternoon.
See the shuttle timetable for departure times.